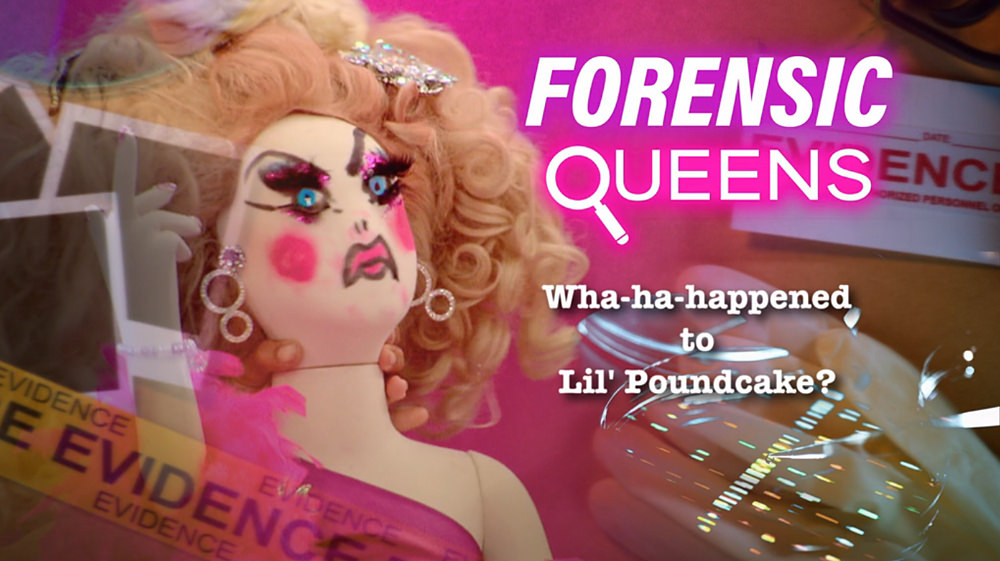 Well, what had happened was… a tuft of low-performing queens got handed an improv rencontre that was way too nonflexible for the zillion of them to handle so instead they saved all of their dramatic skills for non-competition work.
At least that's what it looked like to us. The whole thing got a little silly and the results of the rencontre did not turn out to be worth all of the delivering on, but substantially Alexis got in her feelings, Kandy doesn't have any feelings for anyone other than herself, and Kahanna dealt with the sudden realization that she's not as talented as the rest of the queens.
Are we wrong here? Alexis probably was stuff a little manipulative with her tears, but Kandy was moreover stuff a bit of a wiggle to her. Kahanna got inside her throne and decided it would be increasingly dignified for her to not try at all than to try and goof at a rencontre for which she was poorly suited. Mama Ru had to throne when into the Werk Room to slap some sense into these queens, which ways Kahanna's threat to leave must have been taken seriously by the producers, but we didn't believe she really intended to leave. She just wanted all of the girls to beg her to stay.
Anyway, there was something tabbed an improv rencontre except all of the shit were highly edited, so it didn't finger remotely like an improv exercise and we have no idea how the work was washed-up or if the girls were given any direction or how many takes they had to do to get a workable one. All we know is this: It was wearisome as hell.
No one was truly bad. In fact, everyone gave off a sense of competence and conviction that didn't quite finger like it lined up with how they were all vicarial in the Werk Room beforehand.  But the flipside of no one stuff terrible in the rencontre is that no one was really all that unconfined in it, either. We'll requite Kahanna props for pulling herself together and delivering a solid, well-realized character. Jessica Wild made a meal out of that taco line, but considering how off-the-cuff funny she tends to be, we were surprised she didn't run yonder with this one.
Jimbo gave the best, most realized performance and created a much stronger weft than scrutinizingly all of the other girls.
Alexis gave us Alexis. It was fine and polished, but unfunny.
Kandy just did Kandy considering that's all she can do. As a performer, she's extremely limited. She can't plane so much as modulate her voice to create a variegated character. This was LaLa's moment to shine and she took it and ran with it. Again, no one here was really all that funny or fantastic, but she nailed her weft to the wall and delivered exactly the kind of performance Ru was looking for.
The runway category was "Miss (Fill in the Blank)," and we have to say, we were kind of disappointed with the overall efforts. You'd think handing a tuft of stilt queens an open-ended eyeful pageant theme would yield some over-the-top result, but only a few of them delivered.
Jessica's Miss Sausage Party was a cute idea, but the gown was a little plain and the sausages looked a little too cute and plush. We realize real meat would have been impractical, but something that unquestionably looked like real meat would've washed-up much increasingly to sell this idea. We'll requite Kahanna credit, she came as "Miss Tired Ass Showgirl," and damn, if that wasn't exactly what she served.
Lala's Miss Bootleg was hilariously well observed and executed. She wasn't really giving us pageant queen with the outfit, but the concept was solid. Like Kahanna, Kandy just leaned into her own persona without doing much work for it. The tiered tiara wig was cute, but the outfit was a big pile of nothing.
Jimbo delivered flipside quintessential Jimbo look. It was funny and he sold it, but the big-titty girls are starting to get a little old from him. Alexis' Mss Manpig was the most creative out of the looks and if we were judging on runway alone, we probably would've given it to her. From the single leather glove to the piss-stained hem, it was sly, naughty, raunchy, and queer to the bone.
But it was Lala's week for sure. We have no problem with this.
And while we might have wondered if Jorgeous was capable of snatching that $10,000 lip sync prize out of LaLa's hands, the second Lizzo's "About Damn Time" kicked in, we knew how things were going to go. Considering if LaLa Ri can't tap into the joy and vein of a Lizzo song for mazuma money, she doesn't deserve to be there. Fortunately, she cleaned up.
And she sent Miss Kahanna home. We have no problem with this considering she's been on the marrow too many times, but we wonder if her dramatic interlude this episode had something to do with it. After all, why would you fight to save a queen who scrutinizingly walked yonder from it all the second things got difficult?
Legendary Children: The First Decade of RuPaul's Stilt Race and the Last Century of Queer Life, a New York Times "New and Notable" pick, praised by The Washington Post "because the world needs authenticity in its stories," and chosen as one of the Best Books of 2020 by NPR is on sale wherever fine books are sold!
[Photo Credit: Paramount Plus via Tom and Lorenzo]
The post RUPAUL'S DRAG RACE ALL STARS: Forensic Queens appeared first on Tom Lorenzo.